The Karate Kid (1984) 4K Ultra HD Blu-ray Review: The Basics
---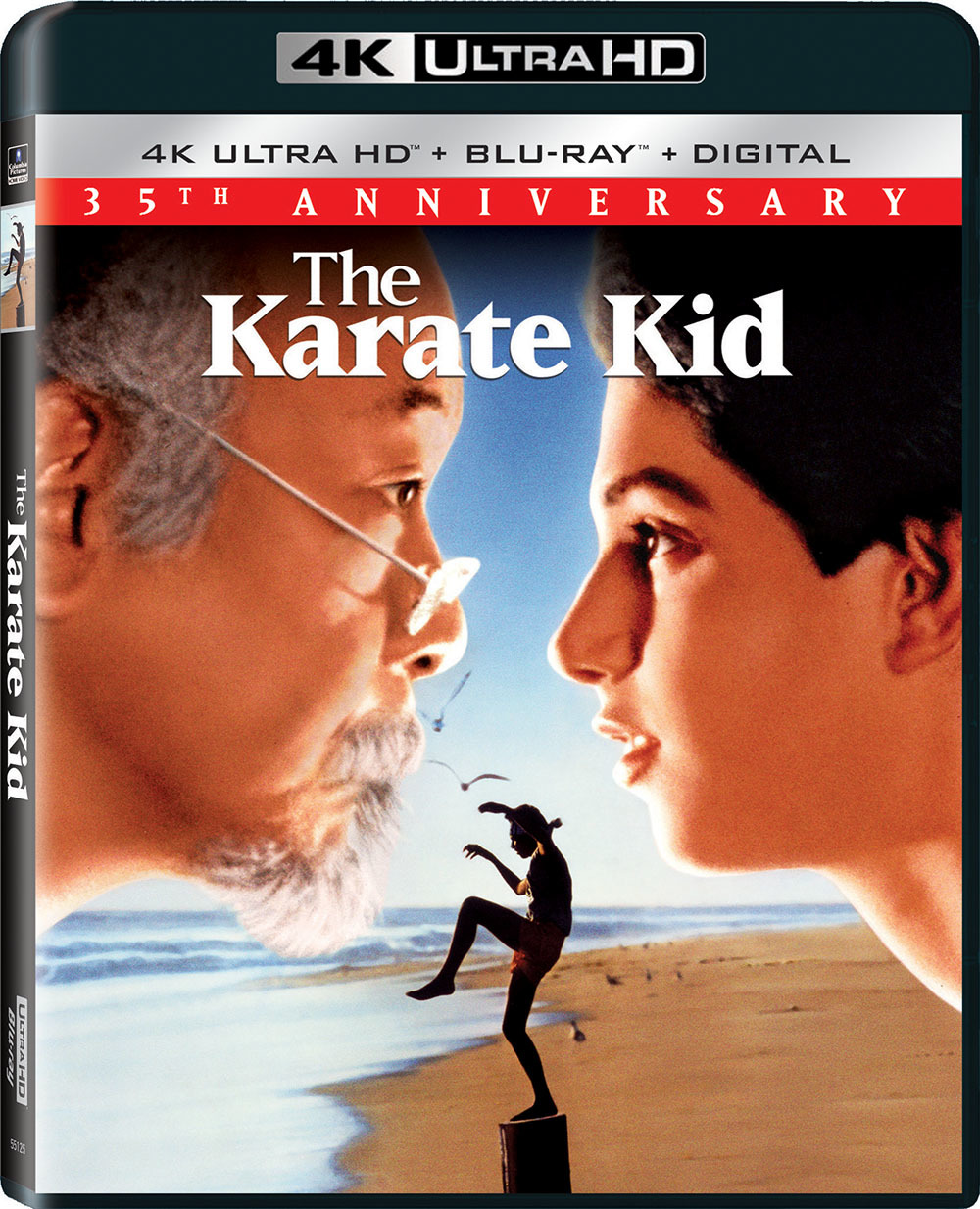 The Karate Kid 4K Blu-ray
35th Anniversary Edition / 4K Ultra HD + Blu-ray
Sony Pictures | 1984 | 127 min | Rated PG | Apr 23, 2019
Video
Codec: HEVC / H.265
Resolution: 4K (2160p)
HDR: HDR10
Aspect ratio: 1.85:1
Audio
English: Dolby Atmos
English: DTS-HD Master Audio 5.1
French: DTS-HD Master Audio 5.1
Spanish: Dolby Digital 5.1
Subtitles
English, English SDH, French, Spanish
Discs
Blu-ray Disc
Two-disc set (1 BD-66, 1 BD-50)
4K Ultra HD (UHD)
UPC 043396551251
#TheKarateKid
Release date: June 22, 1984 (USA)
Director: John G. Avildsen
Featured song: You're the Best
Box office: 91 million USD
Screenplay: Robert Mark Kamen
---
The Karate Kid (1984) 4K Story: The Basics
Daniel arrives in Los Angeles from the east coast and faces the difficult task of making new friends. However, he becomes the object of bullying by the Cobras, a menacing gang of karate students, when he strikes up a relationship with Ali, the Cobra leader's ex-girlfriend. Eager to fight back and impress his new girlfriend but afraid to confront the dangerous gang, Daniel asks his handyman Miyagi, whom he learns is a master of the martial arts, to teach him karate. Miyagi teaches Daniel that karate is a mastery over the self, mind, and body and that fighting is always the last answer to a problem. Under Miyagi's guidance, Daniel develops not only physical skills but also the faith and self-confidence to compete despite tremendous odds.
Director: John G. Avildsen
Writer: Robert Mark Kamen
Starring: Ralph Macchio, Pat Morita, Elisabeth Shue, Martin Kove, Randee Heller, William Zabka
Daniel (Ralph Macchio) moves to Southern California with his mother, Lucille (Randee Heller), but quickly finds himself the target of a group of bullies who study karate at the Cobra Kai dojo. Fortunately, Daniel befriends Mr. Miyagi (Noriyuki "Pat" Morita), an unassuming repairman who just happens to be a martial arts master himself. Miyagi takes Daniel under his wing, training him in a more compassionate form of karate and preparing him to compete against the brutal Cobra Kai.
Own The Karate Kid (1984) 4K Ultra HD Blu-ray on MAY 7.
---
The Karate Kid (1984) 4K Video: The Basics
The movie on 4k has a great transfer, yet again Sony show how they really are king's when it comes their classic movies. This is the best I have ever seen The Karate Kid look, and this movie is a must own for fans and non-fans alike. There are issues of old film grain, muddy, and grain crawl as I call it. Grain appears to follow the screen when panning from left to right. Grain isn't 100% consistent throughout the movie and does change towards the end of the movie. Transfer quality also seems to change wards the back quarter of the movie and seems to suffer from poor quality source elements. Overall however, this is a great transfer from Sony, and I'm extremely happy with the way this disc looks, I'm extremely picky with video and I believe this is a fair assessment of this movie.
VIDEO SCORE = 4 out of 5
HD MOVIE SOURCE - Great Transfer
---
The Karate Kid (1984) 4K Audio: The Basics
The sound is Dolby Atmos are yet again Sony have done a great job with the 4k UHD soundtrack. Nothing over the top, very subtle, but noticeable to trained ears. Clean dialogue through the center channel. Well done Sony.
AUDIO SCORE = 4 out of 5
HD MOVIE SOURCE - Nice Up-scaled Dolby Atmos
---
How I Review: The Basics
I just write what I see, nothing super in depth, just what I see. Do I see noise in the blacks? Edge enhancement? Digital Issues? Scaling Problem? I will let you know if I see any errors in the discs, and how good they really look. Same with the audio, super basic, if its good I'll let you know. My reviews will not get a reference certificate unless its flawless, I will not be giving out 10/10 video and audio without merit. I'm going to keep this really simple, and I hope you enjoy that side of my Reviews. Thank you.
My Review Device Equipment Gear List
LINE CONDITIONER
- FURMAN ELITE-15 PF I
DENON
- X6300H
ELAC
- DEBUT SERIES - DOLBY ATMOS - DUAL SUBWOOFERS
OPPO
- UDP-203 4K ULTRA HD BLU-RAY PLAYER
VIZIO
- P75C1 - ISF CALIBRATED - DOLBY VISION
---
SOCIAL
YOUTUBE
BLOGS
WEBSITE | EBAY | FORUMS