The Little Mermaid 4K Ultra HD Blu-ray Review: The Basics
---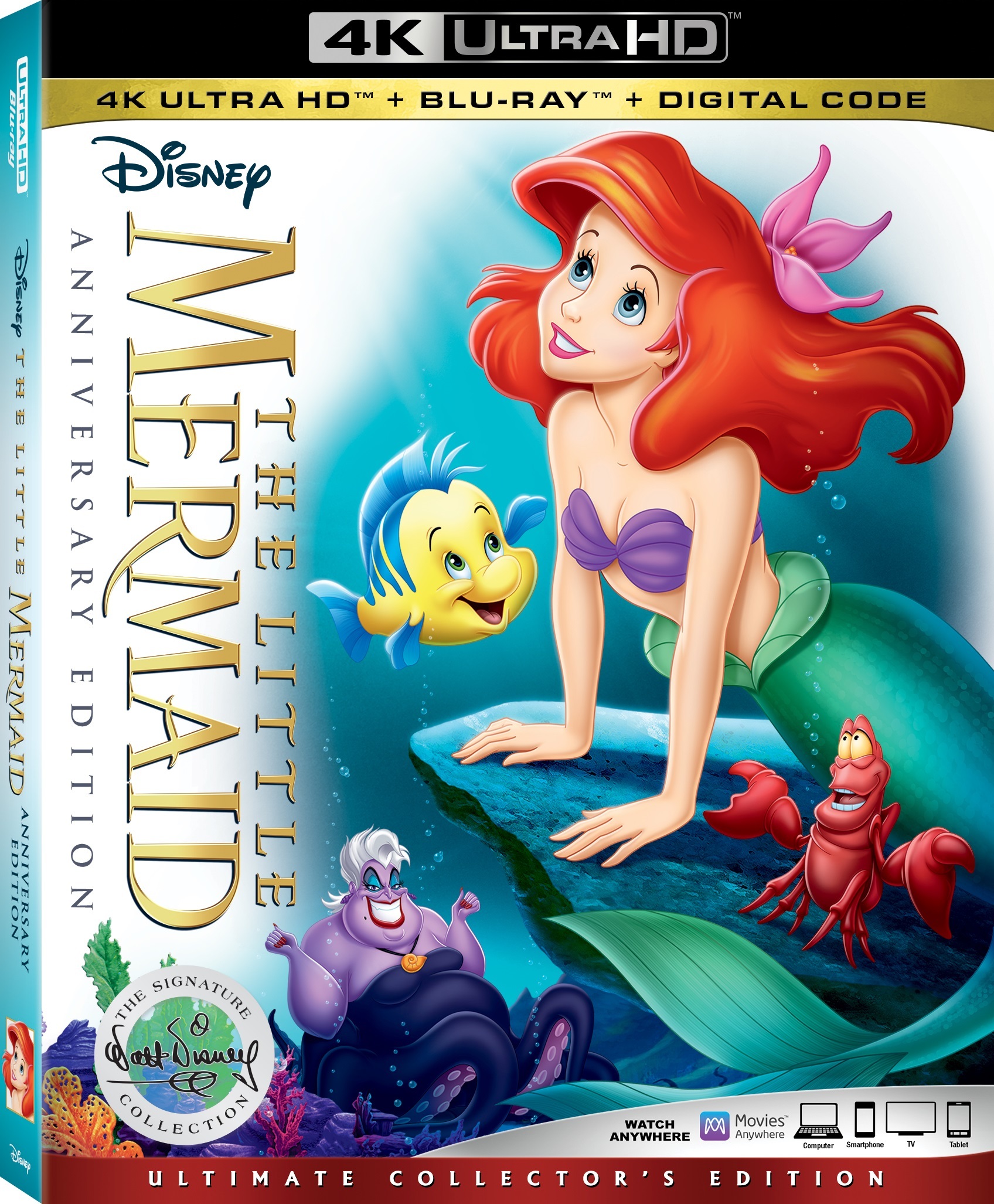 The Little Mermaid 4K Blu-ray
The Signature Collection / 4K Ultra HD + Blu-ray
Disney | 1989 | 83 min | Rated G | Feb 26, 2019
Video
Codec: HEVC / H.265
Resolution: 4K (2160p)
HDR: HDR10
Aspect ratio: 1.78:1
Audio
English: Dolby Atmos
French (Canadian): Dolby Digital 5.1
Spanish: Dolby Digital 5.1
Subtitles
English, French, Spanish
Discs
Blu-ray Disc
Two-disc set (1 BD-66, 1 BD-50)
4K Ultra HD (UHD)
UPC 786936860726
---
The Little Mermaid 4K Story: The Basics
Ariel, a fun-loving and mischievous mermaid, is off on the adventure of a lifetime with her best friend, the adorable Flounder, and the reggae-singing Caribbean crab Sebastian at her side. But it will take all of her courage and determination to make her dreams come true—and save her father's beloved kingdom from the sneaky sea witch Ursula!
Directors: Ron Clements, John Musker
Writers: Ron Clements, John Musker, Gerrit Graham
Starring: Jodi Benson, Pat Carroll, Samuel E. Wright, Christopher Daniel Barnes, Kenneth Mars, Rene Auberjonois
Own The Little Mermaid 4K Ultra HD Blu-ray on Feb 26.
---
The Little Mermaid 4K Video: The Basics
The Little Mermaid on 4K Ultra HD Blu-ray looks bad, really bad. Very low resolution, borderline 480p / 720p, and edge enhancement looks to be added to increase the sharpness of objects. This is not how i'ts done Disney, and in my opinion this is a disgraceful release from Disney. Artifacting, movement in the backgrounds of shots. It's bad.
VIDEO SCORE = 2.5 out of 5
HD MOVIE SOURCE - Awful
---
The Little Mermaid 4K Audio: The Basics
The sound for The Little Mermaid 4K is Dolby Atmos and is quite decent actually, with fairly good use of surrounds, nothing compared to today's standards, but it's okay.
AUDIO SCORE = 3 out of 5
HD MOVIE SOURCE - Average
---
How I Review: The Basics
I just write what I see, nothing super in depth, just what I see. Do I see noise in the blacks? Edge enhancement? Digital Issues? Scaling Problem? I will let you know if I see any errors in the discs, and how good they really look. Same with the audio, super basic, if its good I'll let you know. My reviews will not get a reference certificate unless its flawless, I will not be giving out 10/10 video and audio without merit. I'm going to keep this really simple, and I hope you enjoy that side of my Reviews. Thank you.
My Review Device Equipment Gear List
LINE CONDITIONER
- FURMAN ELITE-15 PF I
DENON
- X6300H
ELAC
- DEBUT SERIES - DOLBY ATMOS - DUAL SUBWOOFERS
OPPO
- UDP-203 4K ULTRA HD BLU-RAY PLAYER
VIZIO
- P75C1 - ISF CALIBRATED - DOLBY VISION
---
SOCIAL
YOUTUBE
BLOGS
WEBSITE | EBAY | FORUMS