The Thing (Limited Edition Steelbook Blu-ray Review: The Basics
---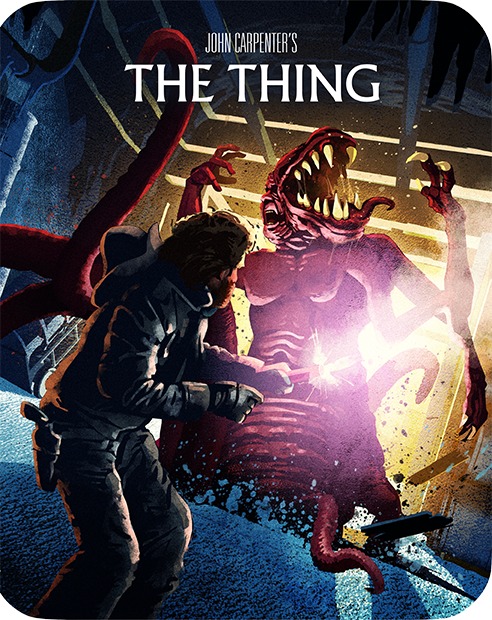 The Thing (Limited Edition Steelbook) Blu-ray
SteelBook / 4K Remaster | Limited Edition (Only 10,000 units are being produced total)
Shout Factory | 1982 | 109 min | Rated R | Nov 13, 2018
Video
Codec: MPEG-4 AVC
Resolution: 1080p
Original aspect ratio: 1.85:1
Audio
English
Subtitles
English SDH
Discs
Blu-ray Disc
Three-disc set (3 BD-50)
UPC 826663191592
Packaging
SteelBook
Bonus Features
DISC ONE:
- 2017 4K Scan Of The Feature Film
DISC TWO:
- 2K Scan Of The Interpositive Supervised And Approved By Director Of Photography Dean Cundey
- 4.1 Audio Mix Created From The Original 70MM Six Track Dolby Stereo Soundtrack (5.1 Audio Mix Also Included)
- Audio Commentary With Director Of Photography Dean Cundey
- Audio Commentary With Co-producer Stuart Cohen
- Audio Commentary By Director John Carpenter And Actor Kurt Russell
- Teaser Trailer
- Theatrical Trailers (U.S. And German)
- TV Spots
- Radio Spots
DISC THREE:
- Requiem For A Shape Shifter – An Interview With Director John Carpenter In Conversation With Filmmaker Mick Garris
- The Men Of Outpost 31 – Interviews With Keith David, Wilford Brimley, David Clennon, Thomas Waites, Peter Maloney, Richard Masur And Joel Polis
- Assembling And Assimilation – An Interview With Editor Todd Ramsay
- Behind The Chameleon: The Visual Effects Of THE THING – Interviews With Visual Effects Artists Peter Kuran And Susan Turner, Special Make-up Effects Artist Rob Burman, Brian Wade And Stop Motion Animators Randall William Cook And Jim Aupperle
- Sounds From The Cold – Interviews With Supervising Sound Editor David Lewis Yewdall And Special Sound Effects Designer Alan Howarth
- Between The Lines – An Interview With Novelization Author Alan Dean Foster
- Back Into The Cold: A Return To The Shooting Locations Of THE THING – An Animated Photo Gallery Narrated By Todd Cameron Of Outpost31.com
- The Art Of Mike Ploog Gallery
- John Carpenter's The Thing: Terror Takes Shape – A Documentary On The Making Of THE THING Featuring Interviews With John Carpenter, Kurt Russell, Special Effects Make-up Designer Rob Bottin, Legendary Matte Artist Albert Whitlock And More! (SD)
- Network TV Broadcast Version Of THE THING (SD)
- Outtakes (SD)
- Vintage Featurettes From The Electronic Press Kit Featuring Interviews With John Carpenter, Kurt Russell And Rob Bottin (SD)
- Vintage Featurettes – The Making Of A Chilling Tale And The Making Of THE THING (SD)
- Vintage Product Reel – Contains A Condensed Version Of The Film With Additional Footage Not In The Film (SD)
- Vintage Behind-The-Scenes Footage (SD)
- Annotated Production Archive – Production Art And Storyboards, Location Scouting, Special Make-up Effects, Post Production (SD)
The Thing Story: The Basics
A twelve-man research team stationed in Antarctica finds an alien being that has fallen from the sky and has been buried for over 100,000 years.
Director: John Carpenter
Writers: Bill Lancaster, John W. Campbell Jr.
Starring: Kurt Russell, Wilford Brimley, T.K. Carter, David Clennon, Keith David, Richard Dysart
The Thing Video: The Basics
The picture Quality for The Thing Limited Edition Steelbook is stunning. Now sourced from a 4k master, and wow... A movie this old can look this good? This is still Blu-ray right? It really does look excellent and this transfer is so so good. Fan or not this is a must own if you love how good film can look and how good old masters can look when done right.
HD MOVIE SOURCE RECOMMENDED!
VIDEO SCORE = 5 out of 5
The Thing Audio: The Basics
The audio for The Thing is pretty standard, however has good bass, clear dialogue and I can't complain about the audio. Its not a surround sound master piece, but Im happy with the way this movie sounds.
AUDIO SCORE = 4 out of 5
---
How I Review: The Basics
I just write what I see, nothing super in depth, just what I see. Do I see noise in the blacks? Edge enhancement? Digital Issues? Scaling Problem? I will let you know if I see any errors in the discs, and how good they really look. Same with the audio, super basic, if its good I'll let you know. My reviews will not get a reference certificate unless its flawless, I will not be giving out 10/10 video and audio without merit. I'm going to keep this really simple, and I hope you enjoy that side of my Reviews. Thank you.
My Review Device Equipment Gear List
LINE CONDITIONER
- FURMAN ELITE-15 PF I
DENON
- X6300H
ELAC
- DEBUT SERIES - DOLBY ATMOS - DUAL SUBWOOFERS
OPPO
- UDP-203 4K ULTRA HD BLU-RAY PLAYER
VIZIO
- P75C1 - ISF CALIBRATED - DOLBY VISION
---
SOCIAL
YOUTUBE
BLOGS
WEBSITE | EBAY | FORUMS