Venom 4k Ultra HD Blu-ray Review: The Basics
---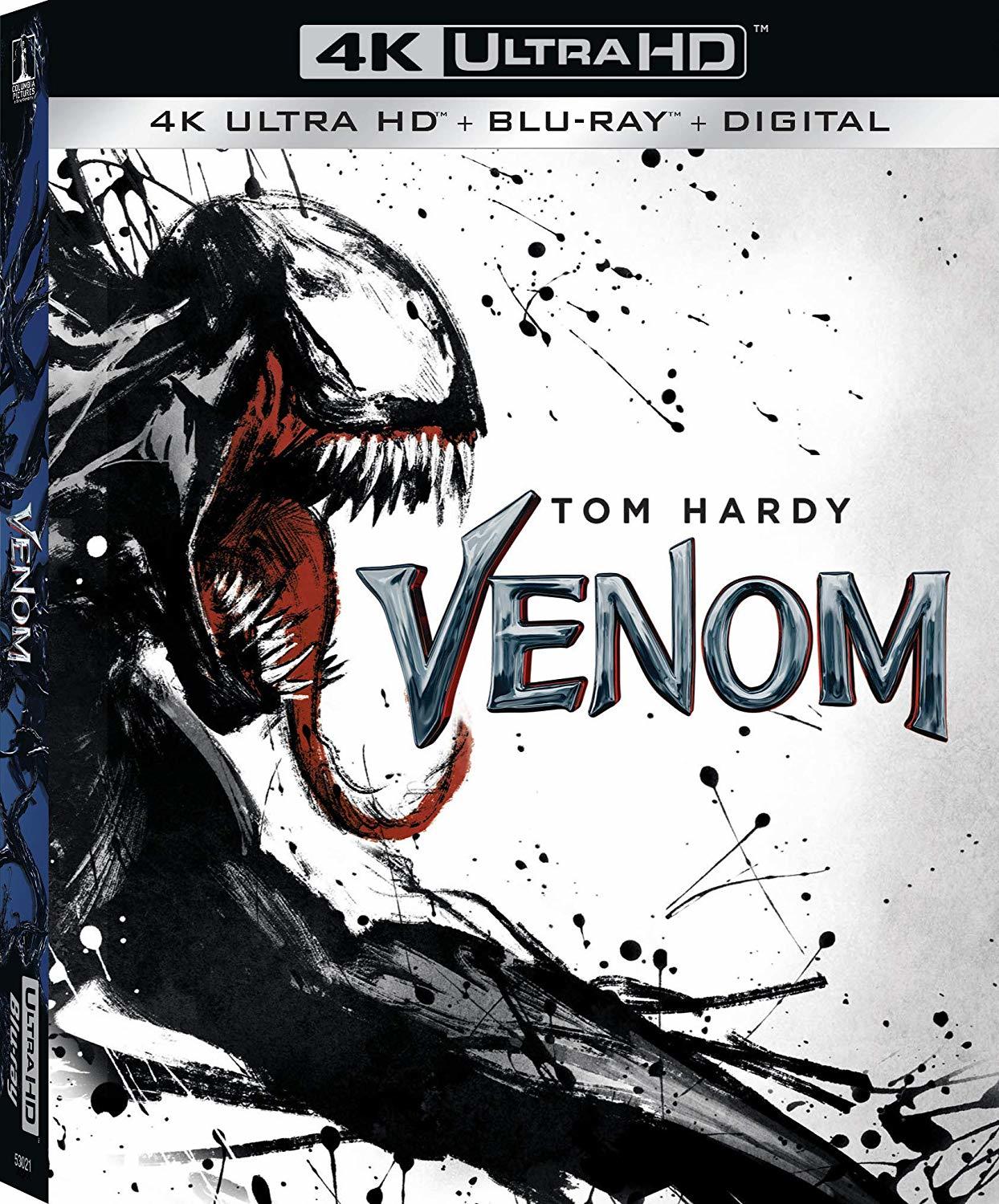 Venom 4K Blu-ray
4K Ultra HD + Blu-ray
Sony Pictures | 2018 | 112 min | Rated PG-13 | Dec 18, 2018
Video
Codec: HEVC / H.265
Resolution: 4K (2160p)
HDR: Dolby Vision + HDR10
Aspect ratio: 2.39:1
Audio
English: Dolby Atmos
French (Canadian): Dolby Digital 5.1
Spanish: Dolby Digital 5.1
Subtitles
English, French, Spanish
Discs
Blu-ray Disc
Two-disc set (1 BD-66, 1 BD-50)
4K Ultra HD (UHD)
UPC 043396530218
Venom Story: The Basics
Journalist Eddie Brock is trying to take down Carlton Drake, the notorious and brilliant founder of the Life Foundation. While investigating one of Drake's experiments, Eddie's body merges with the alien Venom -- leaving him with superhuman strength and power. Twisted, dark and fueled by rage, Venom tries to control the new and dangerous abilities that Eddie finds so intoxicating.
Director: Ruben Fleischer
Writers: Scott Rosenberg, Jeff Pinkner, Kelly Marcel, Will Beall, Todd McFarlane, David Michelinie
Starring: Tom Hardy, Michelle Williams, Riz Ahmed, Scott Haze, Reid Scott, Jenny Slate
Venom 4K Video: The Basics
Venom on 4k UHD looks quite good, for my personal taste its shot digitally and I don't like the look of digital movies. It has that clean and smooth look, a pinch on the soft side for me also. However, I didn't see any digital transfer issue, and overall its a fairly decent looking disc, it just didn't blow me away.
VIDEO SCORE = 4 out of 5
Venom 4K Audio: The Basics
The audio Venom is incredible, absolutely superb use of the bass channel, its so so good. Very clear dialogue, great use of surrounds and Dolby Atmos. Excellent. I don't need to say anymore, the sound is highly recommended.
AUDIO SCORE = 5 out of 5
---
How I Review: The Basics
I just write what I see, nothing super in depth, just what I see. Do I see noise in the blacks? Edge enhancement? Digital Issues? Scaling Problem? I will let you know if I see any errors in the discs, and how good they really look. Same with the audio, super basic, if its good I'll let you know. My reviews will not get a reference certificate unless its flawless, I will not be giving out 10/10 video and audio without merit. I'm going to keep this really simple, and I hope you enjoy that side of my Reviews. Thank you.
My Review Device Equipment Gear List
LINE CONDITIONER
- FURMAN ELITE-15 PF I
DENON
- X6300H
ELAC
- DEBUT SERIES - DOLBY ATMOS - DUAL SUBWOOFERS
OPPO
- UDP-203 4K ULTRA HD BLU-RAY PLAYER
XBOX ONE S
VIZIO
- P75C1 - ISF CALIBRATED - DOLBY VISION
---
SOCIAL
YOUTUBE
BLOGS
WEBSITE | EBAY | FORUMS