The Lion King 4k Ultra HD Blu-ray Review: The Basics
---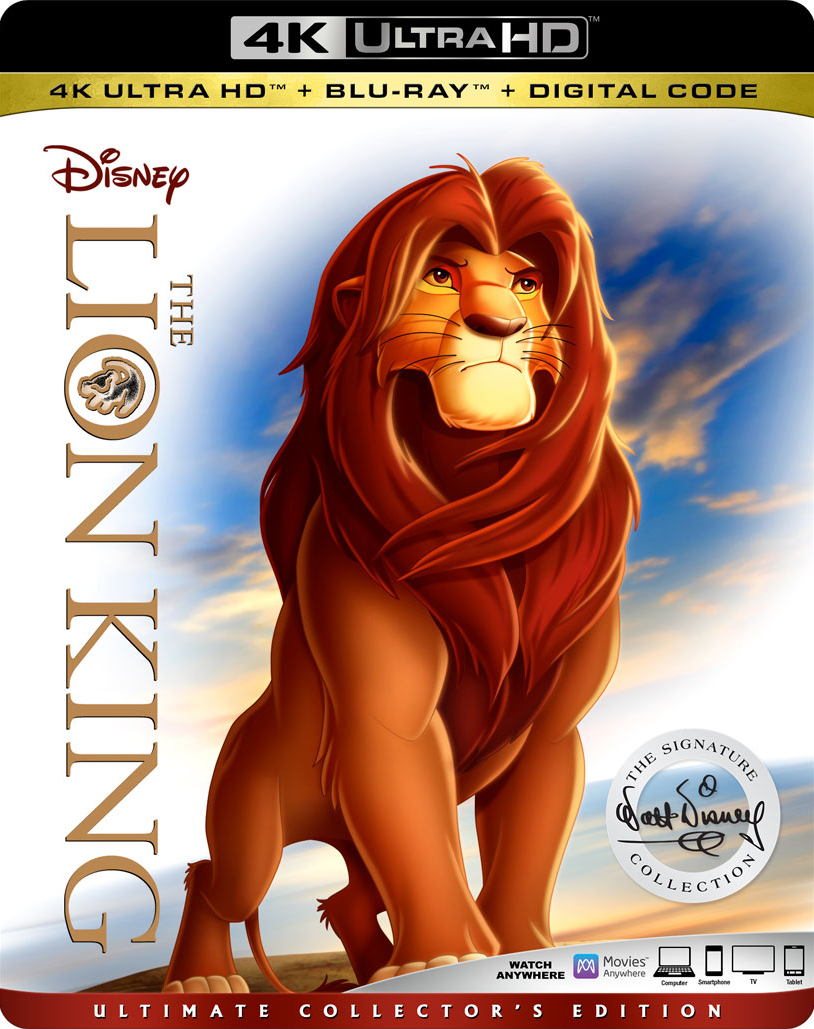 The Lion King 4K Blu-ray
4K Ultra HD + Blu-ray
Disney / Buena Vista | 1994 | 88 min | Rated G | Dec 04, 2018
Video
Codec: HEVC / H.265
Resolution: 4K (2160p)
HDR: HDR10
Aspect ratio: 1.78:1
Audio
English: Dolby Atmos
English: Dolby Digital 7.1
French: Dolby Digital 5.1
Spanish: Dolby Digital 5.1
Subtitles
English, French, Spanish
Discs
Blu-ray Disc
Two-disc set (1 BD-66, 1 BD-50)
4K Ultra HD (UHD)
UPC 032429309853
The Lion King Story: The Basics
A young lion cub named Simba just can't wait to be king. But the sudden death of his father, Mufasa, and the treacherous actions of his Uncle Scar lead Simba into exile and ultimately on a hero's journey of self-discovery. Adopting the "hakuna matata" philosophy of his comical jungle guardians — a warthog and a meerkat (Pumbaa and Timon) — Simba eventually comes to terms with his destiny and returns home to Pride Rock to help put things right.
Directors: Roger Allers, Rob Minkoff
Writers: Irene Mecchi, Jonathan Roberts, Linda Woolverton, Brenda Chapman, Burny Mattinson, Lorna Cook
Starring: Matthew Broderick, Jeremy Irons, Rowan Atkinson, Whoopi Goldberg, James Earl Jones, Nathan Lane
The Lion King 4K Video: The Basics
I was skeptical about watching another Disney 4k UHD because I personally haven't liked anything they have done on 4k yet. Does The Lion King save Disney? Well, I think it does, right from the start I could tell it had a great sharpness and excellent color. I was constantly looking for edge enhancement and could not find anything, literally zero edge enhancement. I couldn't find any banding or noise in dark areas, this is certainly the best you will ever see the Lion King on any home format. I think this is a step up above all the Disney 4k titles I have seen so far, and I think the transfer is perfect, I cannot imaging this movie looking better anywhere.
I just want to say thank you to Disney for producing a great looking 4k transfer for a movie that deserves a special transfer.
Highly recommended.
VIDEO SCORE = 5 out of 5
The Lion King 4K Audio: The Basics
The audio for The Lion King is Dolby Atmos, and there has been love put into this soundtrack, it sounds excellent, and again, this is the best I've heard this movie sound on any home format. The bass from Disney movies has in my opinion been compressed lately, but this is anything but compressed. The bass is full, and deep sounding, excellent. The rain can be heard as though its in the room with me. This is how an old movie can sound; being upticked to Dolby Atmos, this is how it should be done. There is nothing over the top, many things are subtle, and somebody could say well I want more. You could say that, however I think this subtlety is are mark of quality sound without going way, way, way, over the top, like some other Atmos Remixes I've heard. If Disney keep this level of quality up on other releases I will be praising them for a long time to come. Excellent.
AUDIO SCORE = 5 out of 5
---
How I Review: The Basics
I just write what I see, nothing super in depth, just what I see. Do I see noise in the blacks? Edge enhancement? Digital Issues? Scaling Problem? I will let you know if I see any errors in the discs, and how good they really look. Same with the audio, super basic, if its good I'll let you know. My reviews will not get a reference certificate unless its flawless, I will not be giving out 10/10 video and audio without merit. I'm going to keep this really simple, and I hope you enjoy that side of my Reviews. Thank you.
My Review Device Equipment Gear List
LINE CONDITIONER
- FURMAN ELITE-15 PF I
DENON
- X6300H
ELAC
- DEBUT SERIES - DOLBY ATMOS - DUAL SUBWOOFERS
OPPO
- UDP-203 4K ULTRA HD BLU-RAY PLAYER
XBOX ONE S
VIZIO
- P75C1 - ISF CALIBRATED - DOLBY VISION
---
SOCIAL
YOUTUBE
BLOGS
WEBSITE | EBAY | FORUMS