Black Panther 4K Ultra HD Blu-ray Ultra HD Review: The Basics
---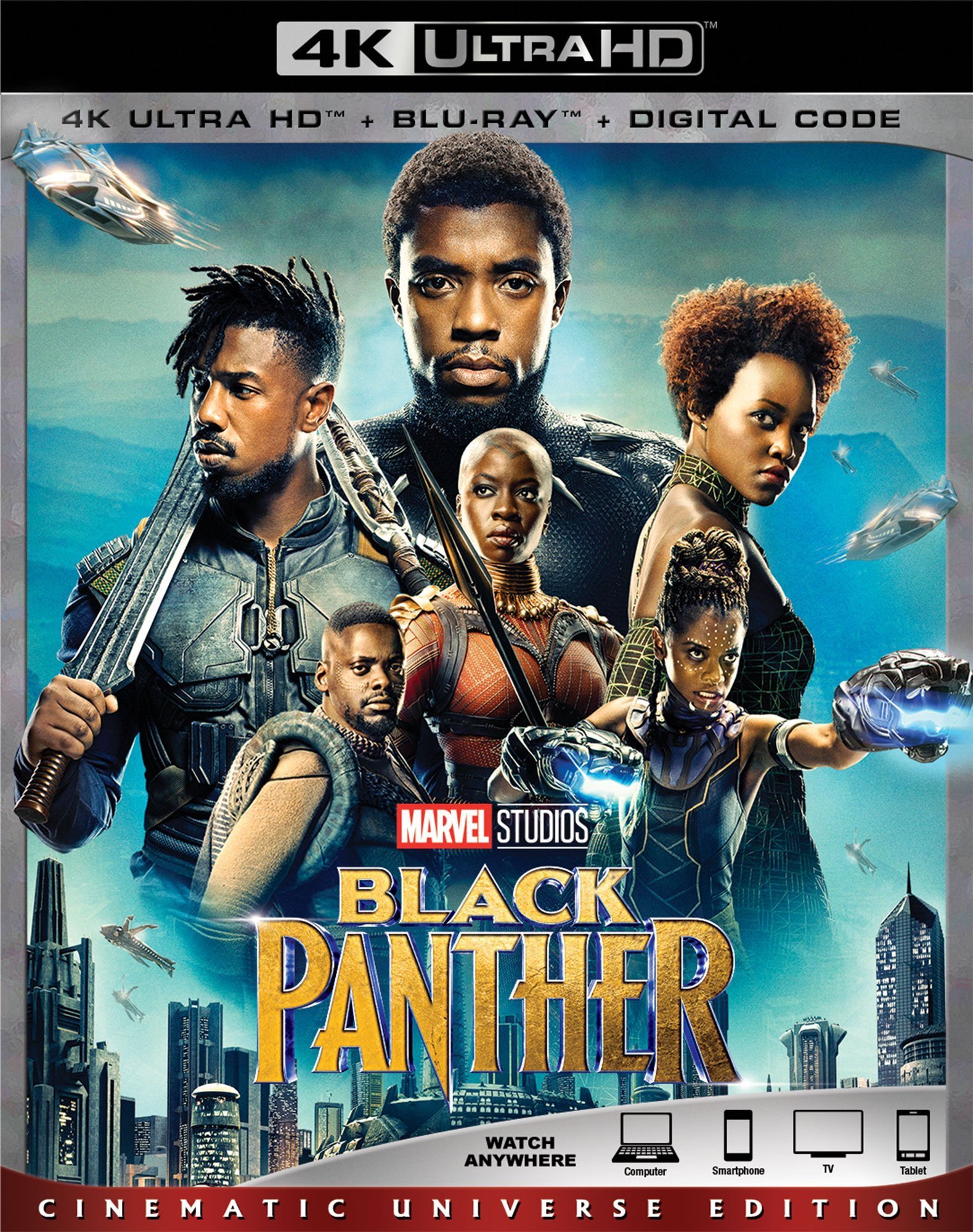 Video
Codec: HEVC / H.265
Resolution: 4K (2160p)
HDR: Dolby Vision + HDR10
Original aspect ratio: 2.39:1
Audio
English: Dolby Atmos
English: Dolby TrueHD 7.1
French: Dolby Digital 5.1
Spanish: Dolby Digital 5.1
Subtitles
English SDH, French, Spanish
Discs
Blu-ray Disc
Two-disc set (1 BD-66, 1 BD-50)
4K Ultra HD (UHD)
UPC 786936856316
Black Panther Story
T'Challa, after the death of his father, the King of Wakanda, returns home to the isolated, technologically advanced African nation to succeed to the throne and take his rightful place as king.
Director
: Ryan Coogler
Writers
: Ryan Coogler, Joe Robert Cole, Jack Kirby, Stan Lee
Starring
: Chadwick Boseman, Andy Serkis, Michael B. Jordan, Lupita Nyong'o, Danai Gurira, Sebastian Stan
Black Panther Video: The Basics
The image quality of Black Panther in Dolby Vision is clean, so there's no complaints of noise, digital compression or anything like that. Black levels are also very good, along with decent color, it looks good, but here comes the but... But, there's no real punch. It's a 2k DI and it shows, the image is soft looking like all Disney discs, and looks way, way to digital / shot in a studio look for my taste. Yes, much of this may come down to taste, but it's just not my taste. Its a clean looking disc, and I commend that, but where's the 4k pop? Where's the scene that I can show my neighbors and they say,"wow, thats amazing", there isn't one. And that's pretty all I have to say about the video, good but nothing special. I expect more from Disney and I expect more from the 4k Ultra HD format.
VIDEO SCORE = 8/10
Black Panther Audio: The Basics
The direction from Dolby Atmos in Black Panther is sensational, with lots of things coming at me from all corners. However the audio sounds compressed to me, I had to turn my Denon up around 9db just to get the sound to sound of equal volume to other movies, this is a constant issue with all Disney 4k UHD Movies. Is it compressed? Does it affect the overall sound when the volume is correct? Im not sure, but I'll say that the bass also feels muted, there's no real punch behind it, compare the bass to something like Dunkirk on 4k where bass hits you in the chest. I personally didn't like the way the disc sounded, for me its too soft, over produced? I just can't point it down, all Disney 4k discs have a similar thing going on, all low volume, all lacking punch. Why Disney? Why?
AUDIO SCORE = 7.5/10
---
How I Review: The Basics
I just write what I see, nothing super in depth, just what I see. Do I see noise in the blacks? Edge enhancement? Digital Issues? Scaling Problem? I will let you know if I see any errors in the discs, and how good they really look. Same with the audio, super basic, if its good I'll let you know. My reviews will not get a reference certificate unless its flawless, I will not be giving out 10/10 video and audio without merit. I'm going to keep this really simple, and I hope you enjoy that side of my Reviews. Thank you.
My Review Device Equipment Gear List
LINE CONDITIONER
- FURMAN ELITE-15 PF I
DENON
- X6300H
ELAC
- DEBUT SERIES - DOLBY ATMOS - DUAL SUBWOOFERS
OPPO
- UDP-203 4K ULTRA HD BLU-RAY
XBOX ONE S
VIZIO
- P75C1 - ISF CALIBRATED
---
SOCIAL
YOUTUBE
BLOGS
WEBSITE | EBAY | FORUMS