Field of Dreams (1989) 4K Ultra HD Blu-ray Review: The Basics
---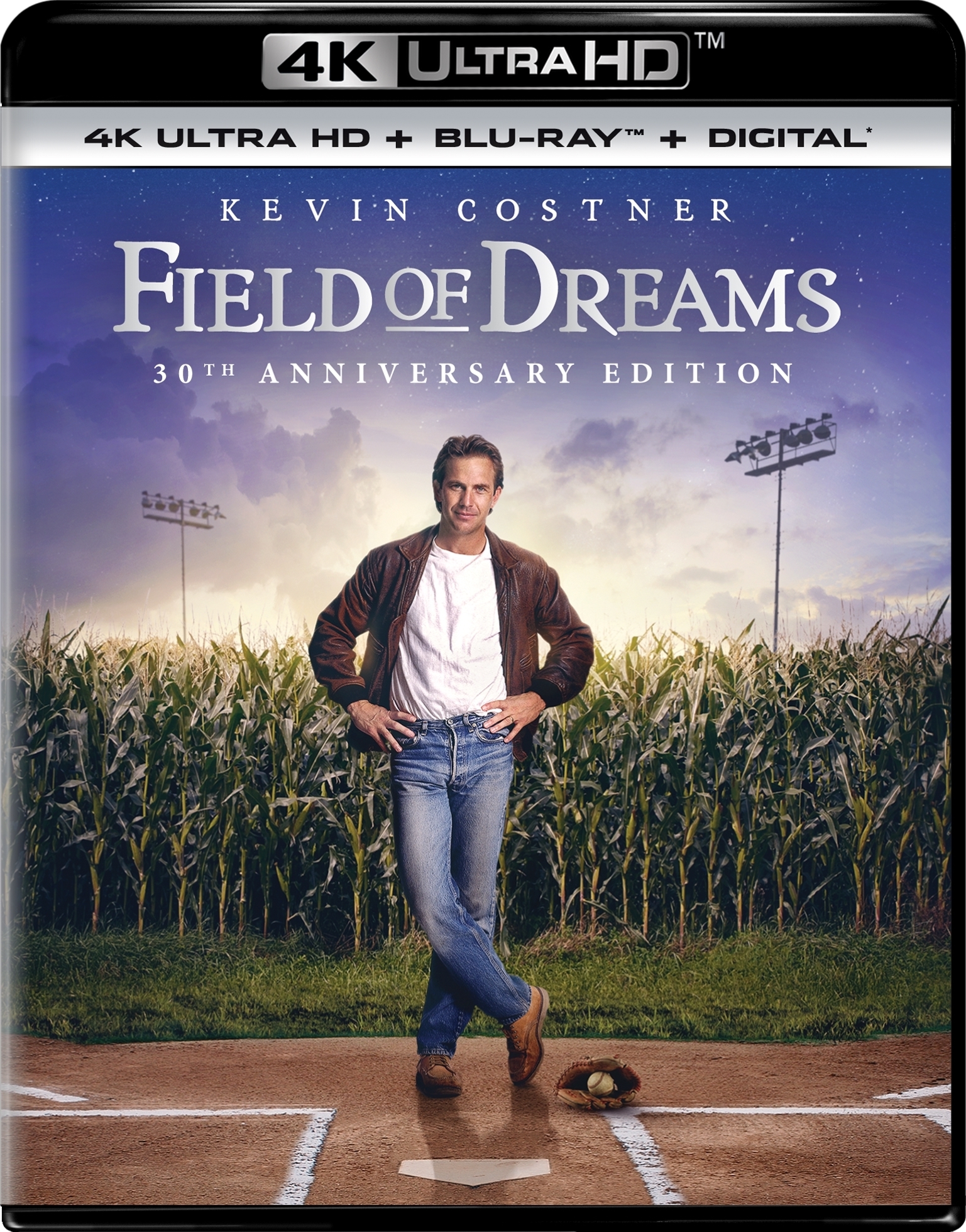 Field of Dreams 4K Blu-ray
30th Anniversary Edition / 4K Ultra HD + Blu-ray
Universal Studios | 1989 | 106 min | Rated PG | May 14, 2019
Video
Codec: HEVC / H.265
Resolution: 4K (2160p)
HDR: HDR10
Original aspect ratio: 1.85:1
Audio
English: DTS:X
Brazilian Portuguese: DTS 5.1
French (Canadian): DTS 2.0
Japanese: DTS 2.0
Subtitles
English SDH, French (Canadian), Spanish
Discs
Blu-ray Disc
Two-disc set (1 BD-66, 1 BD-50)
4K Ultra HD (UHD)
UPC 191329099278
---
Field of Dreams (1989) 4K Story: The Basics
An Iowa farmer hears a voice in his cornfield accompanied by a vision of a baseball field. He takes it as a sign to build a baseball diamond which would ennable Shoeless Joe Jackson of the infamous Chicago "Black" Sox to play ball again.
Director: Phil Alden Robinson
Writers: Phil Alden Robinson, W.P. Kinsella
Starring: Kevin Costner, Amy Madigan, Gaby Hoffmann, Ray Liotta, Timothy Busfield, James Earl Jones
Own Field of Dreams (1989) 4K Ultra HD Blu-ray on MAY 14.
---
Field of Dreams (1989) 4K Video: The Basics
The 4k disc certain looks much better than the Blu-ray and the UHD really is the definitive way to watch Field of Dreams. The disc however is quite noisy and film grain is inconsistent throughout the movie. Some of this I can accept being an older movie. This disc mirrors the look of Backdraft which is another Universal disc I really didn't like the look of. Universal add no thrills in their transfers, but they also do nothing to improve or better, unlike Sony who go out of their way to make 4k discs look incredible and the best they can look. Universal are one of the worst 4k distributors right now and it shows with this release. Generally speaking there isn't any edge enhancement and there doesn't appear to be any digital tom foolery going on, so I am thankful for that. The resolution is higher than standard 2k, and the color colors looks slightly bolder than the standard Blu-ray.
For me the disc doesn't look that good, however, this is a disc that could have looked like complete crap and I would still want it in my collection because the movie is so great. There are a few shots like look really nice, but not enough to make this a great disc.
The point of my reviews is not to look back at movies and think, wow I gave that a 5/5? How? It looks poor. I want a different look on my reviews where I review picture quality and that alone. I will remain strict on my reviews as always because picture quality means everything to me.
VIDEO SCORE = 3 out of 5
HD MOVIE SOURCE - Average
---
Field of Dreams (1989) 4K Audio: The Basics
The audio on Field of Dreams is excellent, it's DTSX and I could tell right away that the dialogue was super crisp. The budget was certainly put into audio and not video for this release, because it's cheaper to do so. It's not a surround sound extravaganza but it sounds so clear, a quality I've never heard before on this movie.
AUDIO SCORE = 4 out of 5
HD MOVIE SOURCE - Very Good DTS:X
---
How I Review: The Basics
I just write what I see, nothing super in depth, just what I see. Do I see noise in the blacks? Edge enhancement? Digital Issues? Scaling Problem? I will let you know if I see any errors in the discs, and how good they really look. Same with the audio, super basic, if its good I'll let you know. My reviews will not get a reference certificate unless its flawless, I will not be giving out 10/10 video and audio without merit. I'm going to keep this really simple, and I hope you enjoy that side of my Reviews. Thank you.
My Review Device Equipment Gear List
LINE CONDITIONER
- FURMAN ELITE-15 PF I
DENON
- X6300H
ELAC
- DEBUT SERIES - DOLBY ATMOS - DUAL SUBWOOFERS
OPPO
- UDP-203 4K ULTRA HD BLU-RAY PLAYER
VIZIO
- P75C1 - ISF CALIBRATED - DOLBY VISION
---
SOCIAL
YOUTUBE
BLOGS
WEBSITE | EBAY | FORUMS