Die Hard 4k Ultra HD Blu-ray Review: The Basics
---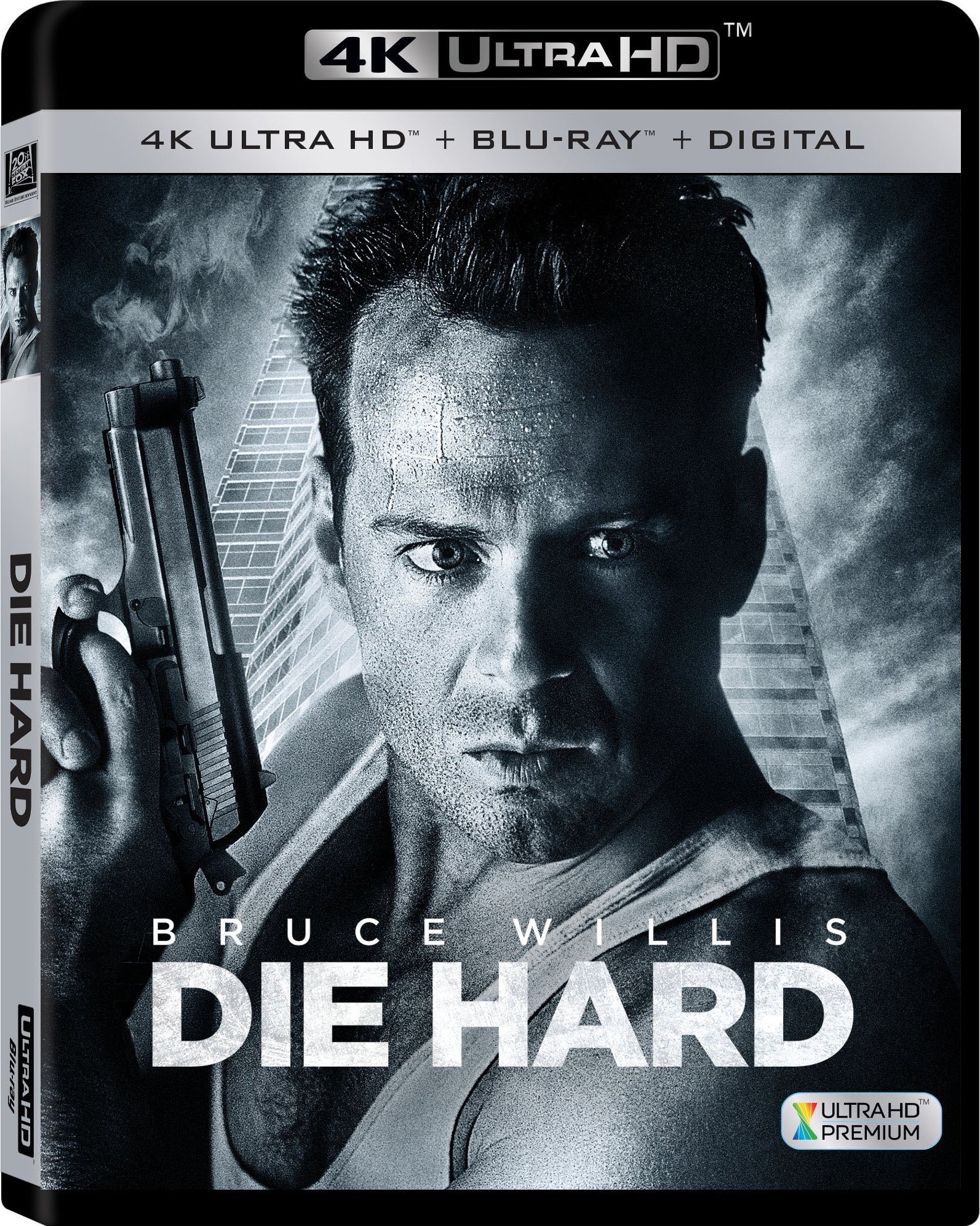 Die Hard 4K Blu-ray
30th Anniversary Edition / 4K Ultra HD + Blu-ray
20th Century Fox | 1988 | 132 min | Rated R | May 15, 2018
Video
Codec: HEVC / H.265
Resolution: 4K (2160p)
HDR: HDR10
Original aspect ratio: 2.36:1
Audio
English: DTS-HD Master Audio 5.1
French: Dolby Digital 5.1
Spanish: Dolby Digital 5.1
Subtitles
English SDH, French, Spanish
Discs
Blu-ray Disc
Two-disc set (1 BD-66, 1 BD-50)
4K Ultra HD (UHD)
UPC 024543471004
Die Hard Story: The Basics
New York City detective John McClane, newly arrived in Los Angeles to spend the Christmas holiday with his estranged wife, but as McClane waits for his wife's office party to break up, terrorists take control of the building. While the terrorist leader, Hans Gruber rounds up hostages, McClane slips away unnoticed. Armed with only a service revolver and his cunning, McClane launches his own one-man war. A crackling thriller from beginning to end, Die Hard explodes with hear-stopping suspense.
Director: John McTiernan
Writers: Roderick Thorp, Jeb Stuart, Steven E. de Souza
Starring: Bruce Willis, Alan Rickman, Bonnie Bedelia, Reginald VelJohnson, Paul Gleason, William Atherton
Die Hard 4K Video: The Basics
Die Hard on 4k looks okay, I'd say average at best, its very nice that nothing was added. What I mean by that is, there is no digital edge enhancement or any of the nasty digital tricks added. This 4k certainly looks better than than the Blu-ray, but overall I think more could have been done here to make this movie look better. When panning from left to right, I'm honestly not sure what this term is called, but I would call it crawling. For me its where the film grain becomes slightly blurry, I don't know whether this is just low bit rate or what, but its consistent through the movie, and I didn't like that. Again, similar to the Predator; no love was or extras was put into the movie, which I do appreciate but in turn, please increase the bitrate, at least for movement scenes. Average looking disc, but Die Hard has never looked better at home, so its nice to see it at the very least looking this good.
VIDEO SCORE = 3 out of 5
Die Hard 4K Audio: The Basics
The sound for Die Hard is DTS Master Audio, so no Dolby Atmos which is a shame for a movie like this, especially with all the movement around the elevators, and other scenes, a missed opportunity I think. Dialogue seems a little low, and there is no major use of surround sound. Nothing special.
AUDIO SCORE = 3 out of 5
---
How I Review: The Basics
I just write what I see, nothing super in depth, just what I see. Do I see noise in the blacks? Edge enhancement? Digital Issues? Scaling Problem? I will let you know if I see any errors in the discs, and how good they really look. Same with the audio, super basic, if its good I'll let you know. My reviews will not get a reference certificate unless its flawless, I will not be giving out 10/10 video and audio without merit. I'm going to keep this really simple, and I hope you enjoy that side of my Reviews. Thank you.
My Review Device Equipment Gear List
LINE CONDITIONER
- FURMAN ELITE-15 PF I
DENON
- X6300H
ELAC
- DEBUT SERIES - DOLBY ATMOS - DUAL SUBWOOFERS
OPPO
- UDP-203 4K ULTRA HD BLU-RAY PLAYER
XBOX ONE S
VIZIO
- P75C1 - ISF CALIBRATED - DOLBY VISION
---
SOCIAL
YOUTUBE
BLOGS
WEBSITE | EBAY | FORUMS