LIFE 4K UHD ULTRA HD BLU-RAY REVIEW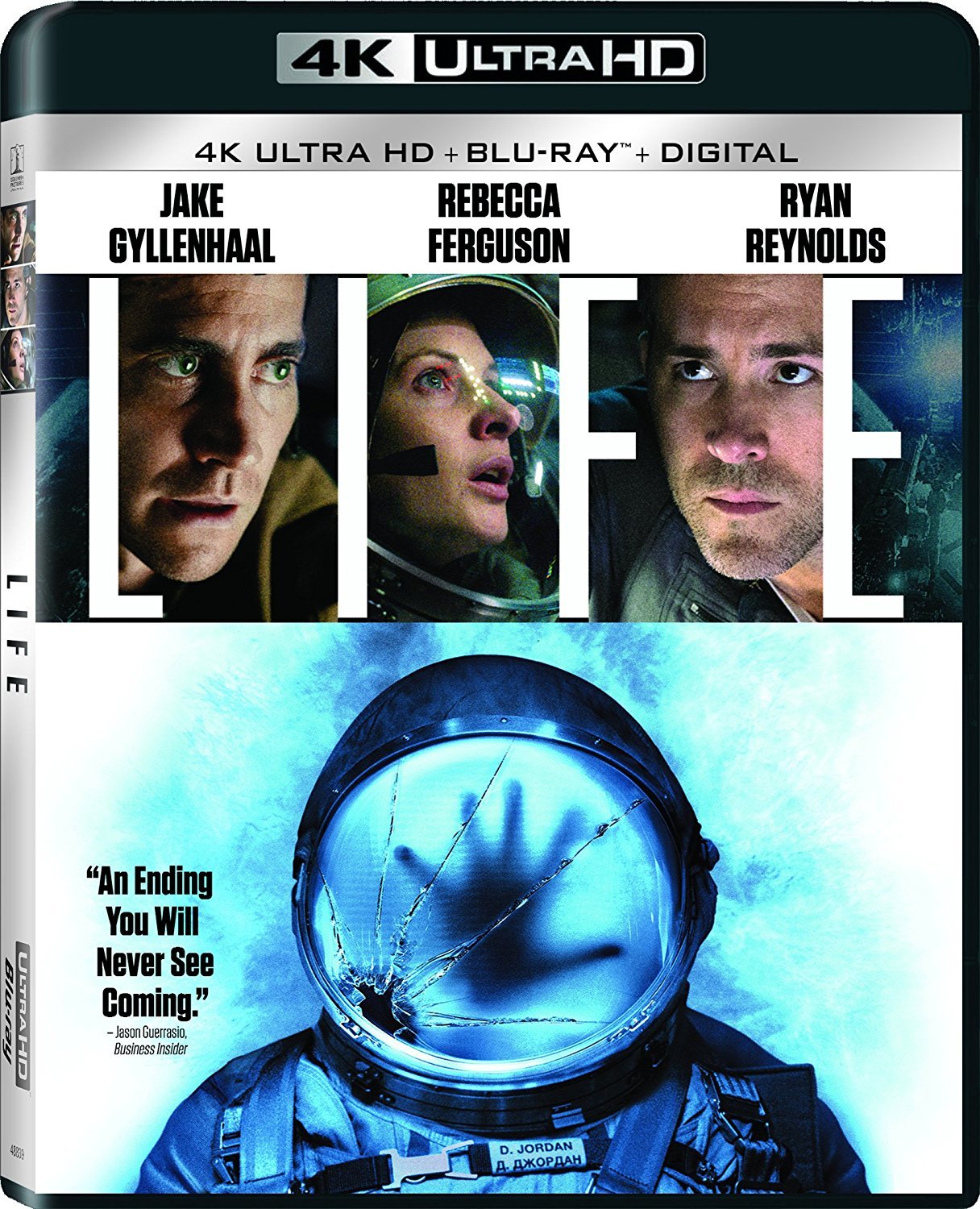 LIFE 4K UHD Blu-ray
4K Ultra HD + Blu-ray
Sony Pictures | 2017 | 104 min | Rated R | Jun 20, 2017
Video
Codec: HEVC / H.265
Resolution: 4K (2160p)
Aspect ratio: 2.40:1
Original aspect ratio: 2.39:1
Audio
English: Dolby Atmos
English: Dolby TrueHD 7.1
Discs
Blu-ray Disc
Two-disc set (1 BD-50, 1 BD-66)
4K Ultra HD (UHD)
UPC 043396488397
LIFE STORY
An international space crew discovers life on Mars.
Director: Daniel Espinosa
Writers: Rhett Reese, Paul Wernick
Starring: Ryan Reynolds, Jake Gyllenhaal, Rebecca Ferguson, Hiroyuki Sanada, Ariyon Bakare, Olga Dihovichnaya
LIFE VIDEO REVIEW
The detail and color of Life on Ultra HD Blu-ray is excellent. The scene where they are dissecting the life that they have found is truly detailed and shows amazing color. So yeah, the disc has amazing detail, excellent color, so whats wrong with the disc? My issue with the disc in very inconsistent film grain, and sometimes the grains just looks like a mess in dimly lit scenes. I couldn't tell whether it was film grain or just noise, and I really wasn't happy with that. If anything the image looks to have slightly edge look to increase the detail, and along with the film grain / noisy look it doesn't look good in some scenes. The disc does look good mostly but is let down by minor issues. I seek perfection in image quality and this quite simply is not a reference disc because of these issues.
VIDEO SCORE = 4/5
LIFE AUDIO REVIEW
The Dolby Atmos in Life is shocking, absolutely incredible sound, from atmos, to bass, to hearing the ship move crack. clear center channel dialogue. This is amazing, and anyone with an Atmos setup needs to hear this movie. Excellent.
AUDIO SCORE = 5/5
MY REVIEW DEVICES
LINE CONDITIONER
- FURMAN ELITE-15 PF I
DENON
- X6300H
ELAC
- DEBUT SERIES
OPPO
- UDP-203 4K ULTRA HD BLU-RAY
XBOX ONE S
VIZIO
- P75C1
---
SOCIAL
YOUTUBE
BLOGS
WEBSITE | EBAY | FORUMS